EXHIBITION "SAVING SERBIA: THE AMERICAN MISSION AND THE TYPHOID EPIDEMIC IN SERBIA IN 1915" AT THE HISTORICAL MUSEUM OF SERBIA
Historical Museum of Serbia
Trg Nikole Pašića 11
The Centre for Public History and the Historical Museum of Serbia are pleased to invite you to the opening of the exhibition "Saving Serbia: the American Mission and the typhoid epidemic in Serbia in 1915", on Monday, 11 February 2019, at 6 p.m.

The exhibition will be opened by Dr Dušica Bojić, the Director of the Historical Museum of Serbia, Dr Milovan Pisarri, the author of the exhibition and Director of the Centre for Public History, and representatives of the US Embassy in Serbia.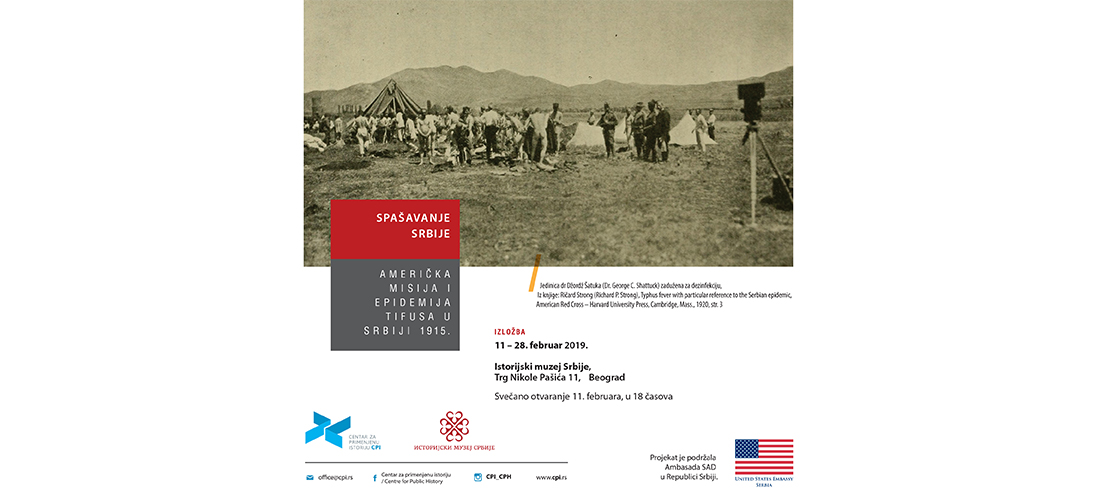 According to the author himself, the exhibition is part of the research project of the same name, which aims at introducing the public to an important event that changed the course of history in Serbia and the world during World War One. The public will be presented with archival documents, photographs, newspaper articles and other texts that testify to the outbreak of the typhus epidemic and the arrival of foreign medical missions to Serbia, with a special reference to the US Mission.

The exhibition is accompanied by the catalogue of the same name.

On Saturday, 16 February, at 5 p.m., the author will give a guided tour.

During 2018 and the beginning of 2019, the exhibition has been hosted in Šabac, Bor, Novi Sad and Užice.

The project was realised with the support of the US Embassy in Serbia.