Author: MSc Tamara Ognjević
15. september - 14. november 2019.
The exhibition Princess Elizabeth – A Long Journey Home is a kind of homage to Princess Elizabeth Karageorgevic, Prince Paul and Princess Olga's daughter, the only girl and the last member of the ruling house of Karageorgevic born in the Kingdom of Yugoslavia in 1936, a few years before the dynasty was expelled from the country in 1941. It has been realized in cooperation with the Historical Museum of Serbia and Artis Center within the project Genealogy of Old Serbian Families, authored by Dr. Dušica Bojić. The exhibition tells the story of Princess Elizabeth's life and work and presents the ancestry of this respected member of the royal family who is a humanitarian, a philanthropist and the first member of the Karageorgevic family to return to former Yugoslavia in 1987 after several decades of living in exile.

This exhibition shines the spotlight on a historical figure born into a royal family who was forced by an unforeseeable twist of social and political fate and her own character to make a journey from princess to commoner, from an aristocrat privileged by birth to a modern woman shaping her new status and involvement in society. Based, on one hand, on the explorations of the Princess's personal legacy (paintings, photographs, correspondence, books, archive material, visual and applied art pieces and artistic craft items) and a comprehensive insight into the materials related to Princess Elizabeth and her family and the creativity of the Princess herself, who has been writing, painting and taking photos for many years, and the works by contemporary designers inspired by Princess Elizabeth, the exhibition is a unique blend of the documentary and the creative, the historical and the contemporary.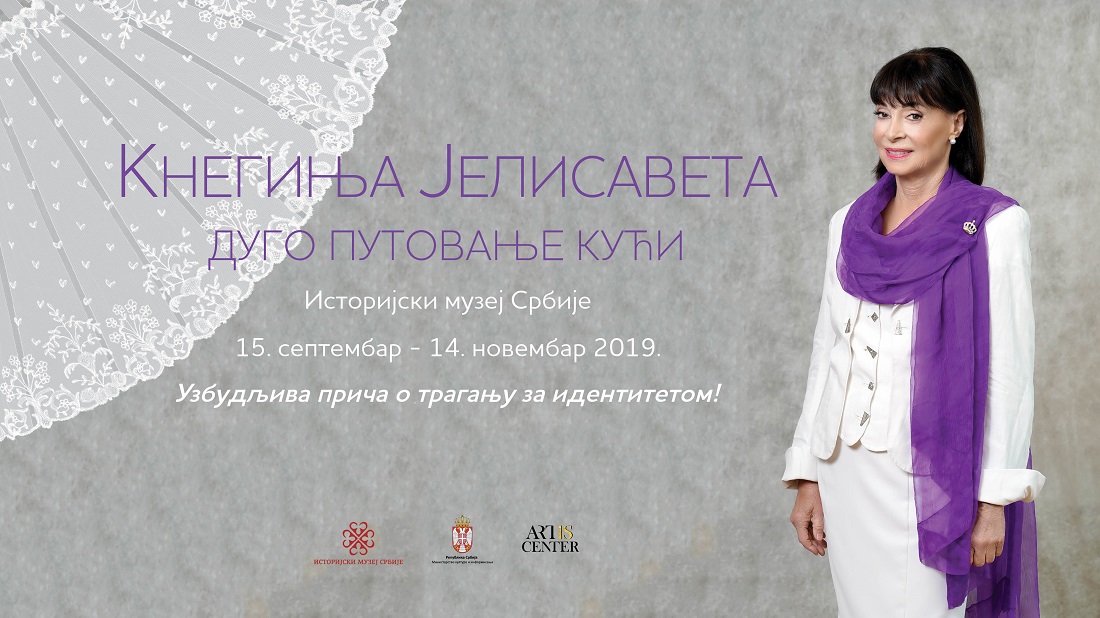 The exhibition, whose author is Tamara Ognjević, incorporates two sections presented side by side in the Gallery of the Historical Museum of Serbia. Conceived as a simulacrum of the Princess's apartment in Belgrade, the exhibition portrays the public and private aspect of Elizabeth Karageorgevic's life, showing both her biography through a story of her background and ancestors contextualized into appropriate micro-sections. The audience will thus be able to see exclusive personal items and documents, such as Princess Olga Karageorgevic's journals; a fan belonging to Grand Duchess Elena Vladimirovna Romanova, the Princess's maternal grandmother; Thomas Goode & Co. porcelain service belonging to Maria Pavlovna Demidova, Prince Paul's aunt; a letter sent by the famous French painter Eugène Delacroix to the Princess's great-grandfather Anatole Demidov, Prince of San Donato; A Fabergé notebook containing sketches of the jewelry that belonged to the Princess's great - grandmother Maria Pavlovna Vladimirovna of Russia; letters written by Princess Cleopatra Karageorgevic, Elizabeth's grandmother, to her parents, Prince Alexander and Princess Persida; Prince Paul's flag, which had hung in St. George's Chapel in Oxford where he studied, and Princess Elizabeth's personal clothes and accessories, her original drawings and children's books, photographsof her by world-renowned fashion photographers, such as Richard Avedon, Cecil Beaton and Ormond Gigli, as well as those taken by local masters of photography, including Željko Sinobad, Nenad Marjanović, Nebojša Babić and Al Šimon, who captured the Princess's numerous activities after she returned to Serbia.

Approximately two hundred exhibited items from the Princess's personal legacy that have not been explored, published or presented yet, and several borrowed pieces from national museum collections (The National Museum in Belgrade, The Gallery of Matica srpska, Novi Sad) are considered a highly complex material in view of their type, material and origin. With this in mind, they needed to be presented so as to provide an easy way for the audience to walk through and understand the exhibition. To this end, the exhibition features interesting digital animation produced by the Faculty of Dramatic Arts in Belgrade and, in addition to continuous guided tours, plenty of additional programmes will be offered (lectures, panel discussions, concerts, video presentations, promotions, workshops), in line with the standards of modern museology. What gives this project a special appeal is undoubtedly that the exhibition is focused on a live historical figure with whom the audience will be able to communicate directly and, together with all its additional attractions, makes this exhibition an authentic introduction to Princess Elizabeth's biography.