THE EXHIBITION 'SERBIA 19 YEARS SINCE 1999 – WHILE THE BOMBS WERE DROPPING' HAS OPENED
Nikola Pašić Square
On Friday, March 23, 2018, the exhibition 'Serbia 19 years since 1999 – While the bombs were dropping' was opened in the Historical Museum of Serbia to commemorate the 19th anniversary of the NATO aggression on FR Yugoslavia in 1999. The audience was addressed by Dr. Dušica Bojić, Director of the Museum and the coauthor of the exhibition, Dr. Mile Bjelajac, Director of the Institute of Recent Serbian History, and Biljana Willimon, the painter.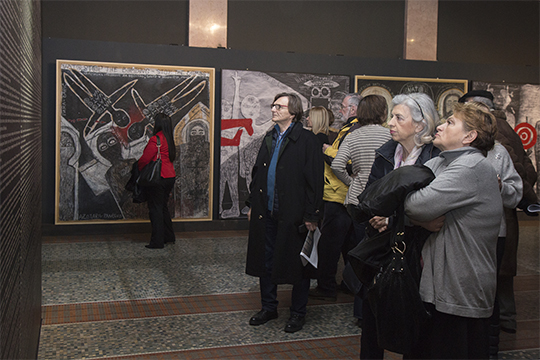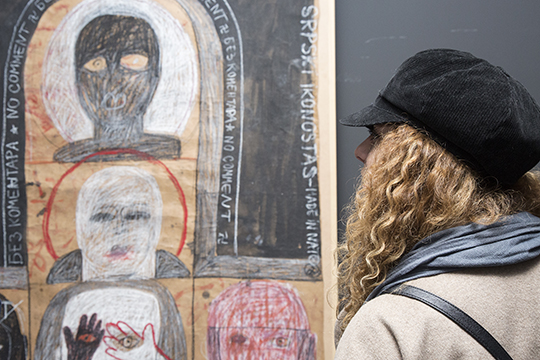 The exhibition presents artworks by Biljana Willimon and Vladimir Veličković – works they produced during the aggression, inspired by the war of which they were contemporary witnesses.
The exhibition presents two creators of different artistic sensibilities, a man and a woman – the female artist spent the war in Belgrade, while the male witnessed from his studio in Paris, where he lives and works, the process of the disintegration of the FR Yugoslavia and, later, the bombing of Serbia. The woman painter fought against the aircraft and bombs in her apartment near the Serbian Government, the General Staff and Nemanja Street, the so-called Bermuda Triangle, which was a constant target of bombardment, while the male painter watched from the Arc de Triomphe how the world was marching into a new European ghetto of evil, aggression and coercion. The female painter, who was known for her multimedia art, at the time of creation did not lack light and sound effects needed for her creative act. The sounds of the warning sirens, the fire over Belgrade, the anti-aircraft missiles, the city in the dark, the curtains of smoke covering the demolished facilities – all of these were the effects of war under which she painted the cycle of her known as 'Goodbye to Reason', which represents a painter's diary of the 78 days of the bombardment. The male painter, who was known for the obscure themes of disintegrating bodies and bloody wounds, could no longer focus on one victim but began to see much further, the world framed with wires, in the darkness of bad decisions and lack of memory.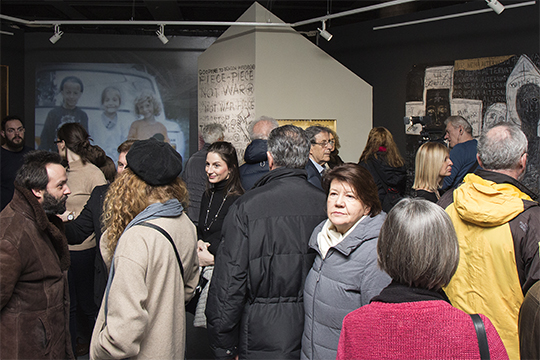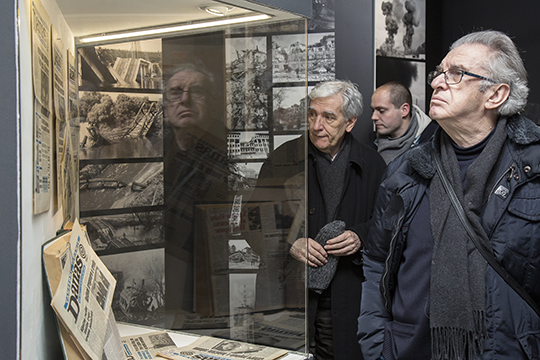 The exhibition includes the art works which these two artists donated to the Historical Museum of Serbia: 'My country which exists no more' by Vladimir Veličković, depicting the beginning of the disintegration of Yugoslavia, and works by Biljana Willimon from her cycle 'Goodbye to Reason', created during the aggression, which depict the final phase of the disintegration.

There are no other such works in the Museum; this qualifies them as priceless, and essential for any further construction of the historical narratives related to the NATO war against Yugoslavia, as well as in the analysis of the narrative discourses emerging from various forms of public action.

The exhibition is accompanied by chronology of bombing, provided by the Ministry of Defense of the Republic of Serbia and Tanjug News Agency, as well as by a certain number of objects collected during the aggression by the curators.

The exhibition is open until June 11, 2018.